Have you ever known fear, dear reader? Now, I do not refer to the garden variety anxiety most plebeians experience. I'm not talking about the banal apprehension that the unrefined commoner feels during a wild animal attack or pregnancy 'scare.' Not the languid, feeble butterflies that flutter about one's gastrointestinal tract at the sight of a dark beard on an airplane or a handgun wielded by an intoxicated bonobo. No. I mean true fear; the type of undeniable, omnipresent horror that cuts straight to your very soul and clings to it like the most obstinate of all kittens would to the absolute final ball of string in existence; a ball of string crafted entirely from catnip and the dots from a laser pointer. This type of spiritual dread is gifted only to a select few, and to them only on those unhallowed nights that the ethereal pall that divides the dynamic from the damned is at its absolute flimsiest.
If you understand this peculiar genre of phobia as well as one JJ Abrams did on one grave winter eve, then you also understand its physiological effects; specifically, the reckless abandon that it applies to one's autonomic internal sphincter. The phenomena that is in the common parlance known as terror pee. And you also understand that the bodily fluids that spring forth from the incontinence brought about by apprehension of that cosmic magnitude provide a much greater challenge to the poor launderer that finds himself faced with them than your average, mortal urine stain.
It is due to the particular potency of terror pee that JJ Abrams had been in the shower for nigh on the running time of one of his films, scrubbing diligently but with little luck. Terror pee will only come clean when the terror that induced it subsides; and his had not yet. His fingers were shriveled like salted slugs and his skin was raw with repeated scrubbing; but still he felt soiled. Nevertheless, nothing lasts forever. Not even the shock of seeing your former friend, lately cut down by the most merciless raccoon since Witko the Grey Death, as a fettered and festering shade. So it was that, after a further sixty minutes of cleansing both physical and emotional, that JJ Abrams finally began to calm. His shaking lessened, then stopped, and the thundering of his heart relaxed to a dull regularity. The sick knot in the pit of his gut began to untangle itself, and at last he began to feel clean.
The hour grew late; nearly midnight, and Abrams began to doubt the events of the evening. He remembered sitting, in his pajamas, in his massage chair; and he remembered answering a phone call from Bob Iger, Lord of Disney, who offered him the chance to helm to newest entry in the beloved Star Wars film series. Yes, he was fairly sure all of that had happened. But what happened next must surely have been a drug-fueled nightmare, because there was simply no other plausible explanation for the appearance of his dead friend Damon Lindelof, who waxed about the damnation he claimed they would both experience in due course. Abrams had been taking a toke or two or ten of his dreadlocked friend Tank's homemade crack-cocaine; clearly Tank had allowed an impurity or two into the blend, and that impurity had become Damon Lindelof in his mind.
It was as he finally began to convince himself of this line of reasoning that  he felt the stream of water he stood in get a little colder. Oh, not significantly so; just a kelvin or two, but it did get colder. Well, after all he'd been standing in it for some time; surely even with his expensive water heater, powered by children's tears and the slave labor of cheaply purchased midgets,  the level of heat could not stay consistent forever. Now then, a moment passed, and the temperature dropped once again and more sharply this time. And then it dropped again; and again and once more till it was truly frigid. With a yelp of shock, Abrams flung open his curtain and leaped bodily out of the shower, his feet landing on his rug and sliding with it like a surfboard across an ocean of tiles. Damn midget slaves, he fumed, they're nowhere near as competent as the Oompa Loompas of legend. They'll need to be punished. 
Yet, even as he was distracted by the sudden coldness and his fantasies of violence towards the differently sized, Abrams could not help but notice the water seem to pile upon itself in a distinctly illogical way. He was no physicist, but he was fairly sure water did not work like that. Yet the water continued to pile upon itself thusly, with no regard whatever to the impossibility of its actions. Soon it was a clear and glistening mound, building higher and higher in the tub until it sat at nearly Abrams' height. Then the aqueous tumulus began to shift; and warp, and change. A bulge formed at its top; from its sides sprouted ever-lengthening nubs; and at its bottom it was cleft in twain by some unseen impetus. What had once been simply water now held the vague shape of a man; and shortly the explicit shape of one; and then it had a face, and then dark brown hair, and then dark blue eyes sunken deep into hollow sockets. Soon enough it was no longer an it, but a him, and a distinguished him at that. For now, before JJ stood the surviving essence of the legendary thespian DeForest Kelley.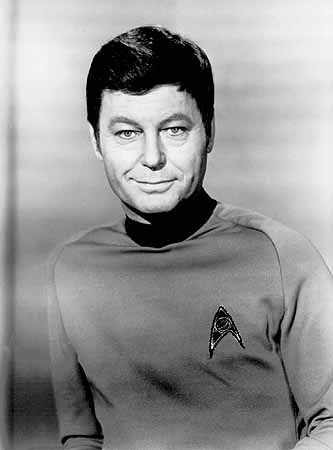 "Hello, Abrams," the being said, "Do you know who I am?" Abrams felt the familiar knot inside his stomach begin to re-entangle itself; yet he knew this could not be real. "Uh, uh… Steve Buscemi?" he stuttered, deciding to try to play along in the hopes it would hasten the entity's departure.
"No, you idiot," the creature said, "I'm DeForest Kelley. Actor… Star Trek? Dr. McCoy?"
Abrams shook his head, "I never watched Star Trek."
Kelley's ghost sighed. "That explains your movie, then. No, sorry, I don't mean to be negative. Do you know why I'm here?"
"The midgets screwed something up?"
The spirit looked miffed, "No, dipstick. Your slaves have nothing to do with me. I'm here as your advocate; your council. I'm here because there's inherent talent in you, and I intend you to realize it to the fullest. Otherwise you're gonna end up like your dead bald friend from earlier; chained up and cursed!"
Abrams was taken aback. This was all a bit much, after all. "So who are you defending me to? Who's going to curse me?"
The ghost of DeForest Kelley was now climbing out of the shower and grabbing one of the silk bathrobes that hung on the door to cover his nude form with. "Who? The fans, of course… and the biggest nerd of all: God."
Seeing the look of abject confusion on Abrams' face, Kelley continued, "For eons mankind has struggled to understand God's plan, and the mysterious ways in which He works. It all becomes clearer when you realize He's not unlike the rest of us: a huge honking Geek. After all, He fits the bill pretty well, doesn't He? You ever pray and not get an answer? He didn't ignore you on purpose; He's just socially awkward. You ever wonder why people suffer? Because it makes for a good story. Just like the Batman fans killed Jason Todd, not the Joker, God killed His only Son, not the Romans. Do you follow me, Abrams? Cover yourself up, by the way, your coldness and fear isn't flattering you, if you get my meaning."
The ghost tossed Abrams a robe of his own, which he quickly donned. Hugging himself so as to warm up in the coldness of the tiled bathroom, Abrams struggled to comprehend what was happening.
"So… Why are you here again?"
"I'm here," Kelley said, "Because in Heaven we still have brick and mortar video stores. And it was at one of those that I rented Super 8 for $1.99 and got to keep it for five days. And you know what, JJ? I loved Super 8. I admire your work. Lost was brilliant till you left it to that Lindelof piece of crap, and I thought Mission Impossible III was a decent action flick. Hell, the new Star Trek was pretty entertaining, if only because getting Karl Urban to play me was a pretty good choice. So I'm going to try to make sure you don't screw up Star Wars, so God doesn't send His scourge Conotocaurious the Wicked to kill you like He did to your friend. Now take my hand."
Kelley extended a wizened Georgian hand, "Come on, don't be shy. Where we're going, no one will be able to see or interact with either of us, so grow a pair and hold hands with a grown-ass dead man."
Tentatively Abrams began to reach towards Kelley's outstretched palm, "Where are we going?"
Kelley smiled, "We're going to visit one of the biggest Star Wars fans out there. Now quit pussyfooting around!"
The ghost seized Abrams' hand, and the world fell away in a white and silver blur. That blur spun all around the man and the ghost like a sparkling tornado, its colors permuting like a Faustian acid trip. Abrams feared he'd be sick, or at the very least dizzy, but other than the pressure he felt from intense and expeditious movement, he was almost comfortable. Finally the spinning began to slow; and slow; and finally it stopped.
They were inside a spacious house; it looked like whoever lived here might be well-off, but for the fact that their television was ancient. They seemed to have no blu-ray player; no computer; but the furniture was luxurious and atop the table stood a silver menorah. Something was very familiar about this house; but what?
There was a clatter, and two children, a boy and a girl, dashed into the room. They were pantomiming some sort of sword fight, though they did not carry actual weapons or any representations thereof. They were making strange buzzing noises with their mouths, and when their imagined swords seemed to make contact, they hissed like angry cats.
"Do you recognize these kids, Abrams?" Kelley asked, gesturing towards them.
"No," said JJ, "But they must be losers; they don't even have a Roomba! These kids are the type I'd have beaten up in school! Nerds!"
Kelley pinched the bridge of his phantasmal nose in a show of frustration. "Abrams, you damn fool, you don't recognize either of them? What about the house?"
Abrams shrugged. "No, but how is breaking into some broke schlub's house to watch their spastic  retard kids going to help me make a better Star Wars movie?"
"Damn it, Abrams, look at the kid! Look at him long and hard; he's about eleven now, but imagine what he'll look like after thirty-six years of dirty money, crack and prostitutes!"
"Will he get fat?"
"No, you skid mark," Kelley spat, truly agitated, "this is May of 1977. That boy is you."
"Wait, did we time travel?"
"Well, yes," said Kelley, "But-"
"I love time travel stories! Hey kid: Darth Vader is Luke's father!" Abrams turned to his apparitional companion, grinning for the first time all night. "I'm going to change the future! I'm going to invent the iPhone, I-"
"Whatever happened, happened, dumbass!" Kelley snapped, "Do you even watch your own dumb shows? And anyway, they can't see us. I brought you here to show you how enthusiastic you used to be about playing make believe in the Star Wars world; you were doing it for free, with nothing! You don't even have lightsaber toys because they don't exist yet! Your parents will buy you that Empty Box promotional thing for Chanukkah  but you won't even have props for your fantasy here for like a year.  But you don't care; you just saw the first movie, and you loved it! That kid is the JJ Abrams that Star Wars needs. Someone who loves the characters! Someone who wants to be a Jedi and fight the evil Empire! Not some money-grubbing suit! Do you get it, Mr. Big Director Man?"
Abrams looked over at the spirit. "I think I do. I could kick that kid's ass."
"Damn it all, Abrams, you're not helping your case… I'm sorry, I'm so sorry… Come with me!"
Kelley grabbed Abrams' hand once again and the world began to spin as it had before. This time it was faster; and it only quickened more and more and more until Abrams felt he'd black out. And then everything did go black; and when it cleared, they no longer stood in the house in Los Angeles in the 1970s.
Now JJ Abrams and DeForest Kelley stood alone in a vast graveyard, with thick fog rolling across the moss covered ground. Crickets were chirping loudly, and an owl sat hooting in a nearby tree. There were tombstones as far as the eye could see, and beyond that, blackness. Directly in front of them there was a grand sepulchre, hewn from a single gigantic piece of white marble. From within the pallid tomb there came what sounded like hisses and whispers, and, almost imperceptibly, a low and quiet scraping sound.
Kelley looked over at Abrams with authentic tears in his eyes.
"I'm truly sorry, JJ, that it's come to this. I wanted to see that the enthusiastic young Abrams still existed; that the talented auteur who wrote Gone Fishin' was still in there somewhere. Not the doofus who wrote Armageddon and Felicity. I really thought your Star Wars could be great; but it seems I've failed. And if I have, then may God have mercy on you."
Abrams looked over at the man who had once been the doctor for the starship Enterprise, "May God have mercy? Why?"
Kelley pointed off into the blackness of the marble sepulchre. His form was fading; he was translucent now.
"May God have mercy, Abrams…"
The crickets had stopped chirping. The owl had gone completely silent and sat frozen, its eyes wide and fixated upon something deep in the darkness. Then it let off a piercing shriek and winged its way into the air, furiously flying as fast and as far as its mortal musculature could carry it. And now the graveyard grew ominously quiet again, except for the hushed and fearful whispers in the darkness of that one great tomb. They were louder now, and they hissed with a greater urgency. It seemed as if they heralded the arrival of… something. Faintly, echoing about the inside of the hallowed chasm of that mighty tomb, something scraped the stone as it moved.
Scrape, scrape.
Louder, now.
Scrape, scrape.
Louder, still.
And then Abrams could see it, not sharply, but he could; it was a grey smudge on the inky black canvas that was the darkness. Grey as a plume of crematorium smoke; grey as fear; grey as death; grey as doom.
Scrape, scrape.
Scrape, SCRAPE.
SCRAPE, SCRAPE.
SCRAPE! SCRAPE!
And now it was clear; and the cemetery fell completely silent as a pair of blazing yellow eyes gazed unblinking into JJ's. Surrounding those eyes was a mask, blacker than even the darkness, and below them there glowed a row of cruel, razor-sharp teeth, stained a yellowish-red. Within that awful mouth there were shreds of something pink; flicking behind the fearsome face was a tail, banded like some venomous snake seeking its prey, and beneath it were hands, frighteningly human hands, each terminating in a pointed black claw.
When Kelley spoke again, he sounded petrified even though he was already dead, and as sullen as if Abrams was as well. His voice was distant now, as if he was very far off, and his image was fading away like the smoke of a dying flame.
"May God have mercy on you, JJ Abrams…."
Then Kelley was gone, leaving JJ Abrams alone in the darkness, gazing at the burning, wicked eyes of the creature before him. JJ Abrams had never seen this creature before, but there could be no doubt as to its identity.
May God have mercy on you, JJ Abrams.
Because Conotocaurious will not.
To Be Concluded….